Happy Sunday everyone. Its been another awesome and wonderful weekend around here. As we had baseball games for Ram yesterday we won a game and lost one. After we headed over to celebrate our little cousin's 1st Communion where we gathered together and had a blast.
As we were relaxing and having fun my Simple as that Picture happened. My little Sassy came along and brought a "gift" for my SIL and of course I had to capture it because it was so sweet.
I look at the picture and it makes me do a deep sigh. Well I hope you are enjoying your weekend and I am off as its almost time for church and then the boys have games each. IF Mother Nature is nice enough to hold the rain although I am not too sure about that one.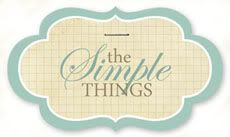 As always thank you so much for stopping by!