Happy Monday! I'm a bit late in posting this weeks share for Simple as That.. We had a nice family weekend. Loving Summer just enjoying each others company and giggling could it get any better then that!?
So usually I post pics of my sweet and cute babies Yes Mama is Bias ...but today I thought why not share a pic of me.
I have lost 40 pounds SQUEAL since January;(through Weight Watchers & Running) thought it was time for a new hairstyle and well since funds are super tight around here I went on youtube and did it myself ... Yes you read that right I cut my own hair :) yes I am a bit crazy... :)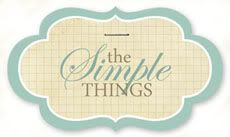 So there you have it ME! I am off as I am going to see if I take the kids to
Red Mango
. MAN that place is beyond YUMO .
I have deadlines as well so its gonna be a busy fun week. Hope you have a wonderful day & thanks for peeking through.